Bob Tunnell - President & General Manager
Bob manages the day-to-day business operations of the Bimmer Haus Performance Group and serves as a consultant on all racecar prep and development.
Bob's first foray into professional motorsports was as General Manager of Seattle International Raceway in the early 1980's overseeing all facility operations and promoting NHRA and AMA events. He continued to promote Indy Car, IMSA, and NASCAR races in the Seattle and Portland markets before joining Warren Miller Films as Associate Producer on 10 feature-length films and Executive Producer of more than 50 nationally syndicated television shows (including 5 about auto racing). Bob also served as General Manager of Warren Miller Entertainment overseeing all day-to-day operations prior to the company's acquisition by Times-Mirror Magazines and ultimately AOL.
Over the years Bob has performed stunt and high-performance driving sequences for feature films and television shows and appeared in several national and regional television and newspaper automotive ad campaigns. He has also taught high performance driving, vehicle evaluation, and corporate motivational programs for nearly a dozen European, Asian, and North American automotive manufacturers.
As a competitor, Bob has won 12 Solo II and ProSolo National Championships. (His wife, Patty, has also won 17 National Championships!) He is a graduate of the Jim Russell and SCCA Competition Driving Schools and holds numerous road racing track records in Showroom Stock and Touring class cars.
Bob also serves on the Board of Directors of Sozo International, a humanitarian aid NGO serving critically poor and disadvantaged people in Afghanistan. In recent years Bob has made 21 trips to Afghanistan to provide emergency aid and long term developmental support in a refugee camp called Barek Aub north of Kabul. Bob's wife, Patty, is also involved in the work in Barek Aub and has traveled there 11 times with him. They both have plans to go back again in 2018.
In his spare time (those rare weekends not spent racing or traveling) Bob enjoys outdoor activities like golf, scuba diving, golf, heli-skiing, more golf, and hiking with Patty. And then maybe a little more golf.
Although he denies being a "collector," Bob currently owns ten BMWs: a 1995 M3, 2001 740iL (daily driver), 1996 740iL, 1995 525i, 2005 325Xi, another 2005 325Xi, yet another 2005 325Xi, a 2003 330Xi, a 1994 325i, a 2003 M3, and has built the 1995 M3 into an E-Modified autocrossing monster into which the guys have dropped an LS3 V8. In the past he has also owned a 2002 M3, a 1994 325i, 1994 325is, 1997 M3 sedan, 1998 328iC, 1991 318is, two 1989 325ix's, a 2002 330i, a 1988 525i, and a 1990 M3.
back to top

Patty Tunnell - Front Desk, Bookkeeper, Controller, a.k.a. "SWMBO"
Patty has been co-owner with husband, Bob, since Bimmer Haus opened its doors in 2001. Until recently she has remained behind the scenes quietly handling marketing and customer satisfaction duties in her spare time while managing a successful dental practice in Boulder. When her former boss retired, Patty began filling in at the BHP front desk a couple days a week while Pat was taking classes.
Although Patty is a new face to the Bimmer Haus office, she is no stranger to the motorsports world. Patty is a 17-time National Champion in SCCA Solo and ProSolo competition and has been awarded the prestigious SCCA Solo Driver of Eminence and Spirit of the Sport Awards and is the only driver, male or female, in SCCA Solo history to win National Championships in 5 different racing categories.
For the record, I taught Patty how to drive when she was 15 so she couldn't have done it without me! (That's my story and I'm sticking to it. ;)
Seriously... Patty brings a lifetime of experience not only in motorsports but also in the business world having achieved success as one of the nation's top skip tracer/collectors for a major Fortune 500 company and coordinated world-wide travel and film and television distribution for a top independent filmmaker.
In recent years Patty has made 11 trips to Afghanistan with husband Bob to provide emergency aid and long term developmental support in a refugee camp called Barek Aub north of Kabul and has plans to go back again in 2018. She also actively serves at Flatirons Church and supports several local non-profit organizations.
In those rare moments when not working, racing, or traveling, Patty is a highly competitive racquetball player. She will tell you that she's not "competitive," but the guys at the racquet club will tell you otherwise. She also enjoys hiking in the foothills all around Boulder with her girlfriends.
Patty brings a new level of customer service to the BHP front desk with a smile and spiritied attitude that's second to none. (Yes, I'm biased... but it's still true.)


back to top

Bill Cray, Service Writer
Bill is the smiling face you'll see at the front desk when you walk into the door at Bimmer Haus.
Bill may be one of the newest additions to the staff, but his name is highly recognizable throughout the Front Range as a BMW guy having served for 12 years as a Senior Service Advisor at Gebhardt BMW in Boulder and most recently as Service Manager at Green Eyed Motors also in Boulder. Bill's heart and soul yearned to once again work with BMW owners and we are thrilled to welcome him to our Bimmer Haus family.
Bill and his wife, Krissy, love to travel with their two kids and Catahoula Hound (is that the coolest breed name ever?) making the most of their time in the Colorado outdoors hiking, biking, skiing, snow shoeing, camping, sampling craft brews, and hard core relaxing at their favorite pools and beaches. And when at home, Bill loves to cook... and says he's never met a recipe he didn't like.
Bill and Krissy currently own two BMWs: an E46 330Xi and E70 X5 3.0 in addition to a not-so-mildly modified 2004 Jeep Wrangler Unlimited, their go-to back country mode of travel.
There's no doubt that Pat Pallotto set a very high standard for service writing at Bimmer Haus and will be sorely missed, but Bill brings a level of service writing expertise and a welcoming smile that is sure to win everyone over.

Jon is a BMW veteran and we are delighted to have him as a key member of the Bimmer Haus family.
He's got some big shoes to fill as Chief Tech Jim Leithauser left to pursue opportunities at Pikes Peak Int'l Raceway, but Jon has amassed some impressive credentials of his own over the years.
A 1999 graduate of BMW's factory STEP program, Jon served for several years as a Lead Diagnostic Technician at two of Southern California's top BMW dealerships before moving to Colorado where he served for five years as Shop Foreman at Gebhardt BMW in Boulder and for eight years as a Team Leader and BMW Certified Preowned Inspector and Technician at BMW of Denver (Murray Motors).
Along the way Jon was acknowledged as Employee of the Year at Brecht BMW and was recognized by BMW North America while at BMW Denver as one of the Top Technicians in the USA for Customer Satisfaction!
When not wrenching on customer BMW's and MINI's, Jon and his wife, Robyn, cherish their family time with their three children, one grandson, and two dogs. Together they also enjoy going to flea markets, streaming video games on Twitch, and occasionally skiing, hiking, and 4-wheeling. Jon boldly claims he is undefeated at the video game "Overwatch" when competing against his daughter, who will privately tell you that "daddy cheats a lot." Robyn is also an accomplished Designer, Home Stager, and excellent cook. (Jon adds: especially desserts!)
Jon and Robyn have been longtime BMW owners and their stable currently includes Robyn's nice 2012 BMW 528 and a sweet 1999 Toyota Tacoma pickup Jon has owned since new. Come on by and welcome him back!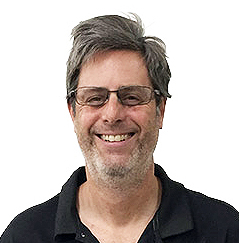 Dan Goodman - Service Technician & High Performance Specialist, a.k.a. "Flounder"
He's baaaaaaaack! Dan has returned to the roost as Technician and High Performance Specialist here at Bimmer Haus!
Dan has returned for his second stint here at Bimmer Haus. He left in 2012 to pursue other opportunities that included serving as an official with the Pirelli World Challenge Series. Now that he's not constantly traveling with the PWCS Dan is here managing our high performance and aftermarket clients as well as sharing his walth of general BMW expertise and experience.
Many of you already know Dan as past Chairman of the Rocky Mtn. Chapter's Autocross program, past President of the Rocky Mtn. Chapter, and as an instructor at RMC and SCCA Driving Schools! But he's also a very experienced Technician -- he comes to us after serving as a Technician at Co's BMW Center in Loveland following nearly a decade of work on other fine European cars in Boulder. And the guy knows high performance... he has helped develop many of the top BMW track and autocross cars in the region.
Dan holds a degree in Mechanical Engineering (from UCSB... I hate him) and has been working on cars for more than 30 years.
When he's not working on cars, racing, or teaching, Dan says he likes to go snowboarding or play hockey.
Come on by and welcome him back!

back to top
Aaron Jindra - Service Technician & Diesel Specialist, a.k.a. "The New Guy"
Aaron comes to us as a factory certified BMW Master Tech with more than a decade of experience with the BMW brand, most with two of the most prestigious BMW dealers in Southern California.
He holds BMW certifications in Advanced Diagnosis, ///M Motorsport, Hybrid Technology, and Advanced Diesel Technology. (Yep... he drives a sweet 328d coupe and LOVES working on diesels!)
He also turned Patty and me on to Somis Market on Hiway 34 just outside Camarillo. Best Mexican food on the planet! ...but that'sa story for another time.
We're just getting to know Aaron since he's only been here since early November of last year so I don't have any good dirt to embarrass him with just yet. But give me time... and be sure to check back. :)
So next time you're in the area, swing by and welcome Aaron to the Bimmer Haus family!